1991 Jaguar XJR-15
According to Motor Authority and Jeff Glucker, "To grab attention on the road, Jaguar produced a monstrous machine called the XJR-15 in 1990. It's a rare V-12 powered British beast with a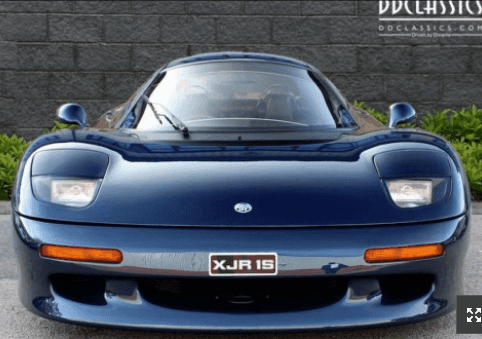 production figure of just 53 examples. One of those 53 is now for sale at a shop in Surrey, England, called DD Classics.
In the middle of the XJR-15, was installed a 6.0-liter V-12 that produced 450 horsepower, which proved to be more than enough for a car that employed judicious use of kevlar and carbon fiber throughout the body panels. The curb weight was just over 2,300 pounds. That power-to-weight ratio enabled a 0-60 mph run of just 3.9 seconds. Given enough space, the car could reach a top speed of 191 mph.
DD Classics has managed to acquire the car you see here, and it's a rather stellar example. Just 600 miles are shown on the odometer. The Mauritius Blue paintwork appears to be in excellent shape, and the interior is ready for the road and the track. If you want to talk to your co-driver you'd better be wearing the included headset for the internal communication system.
Should you be interested in acquiring this ultra-rare race car, you'll need to pony up some serious dough. There's no price listed for this XJR-15, but another example recently popped up for sale at at an auction in Australia. That car did not meet its reserve price even after bidding rose to nearly $540,000. These super Jags don't come up for sale often, but when they do the asking price climbs higher every time."
Disclaimer:
All content belongs to MotorAuthority.com and Jeff Glucker and is not representative of Ray Catena Jaguar of Edison.