Jaguar I-PACE Motor
Did you know Jaguar I-PACE is equipped with a motor, not an engine?
When Jaguar I-PACE arrives in showrooms later this year, it will be powered by an electric motor, not an internal combustion engine. Engines burn fuel and run on combustion, although they are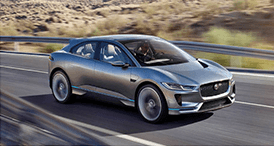 sometimes reffered to as motors. That's different from a motor running on electricity – it cannot correctly be called an engine.
Customers will want to know all the details about Jaguar's first battery electric vehicle, including the fact its motor makes 100% of its torque at 0 rpm. So, acceleration is remarkable fast.