Jaguar's ReRun App
Did you know that F-TYPE drivers can post their driving experiences across the internet?
F-TYPE enthusiasts are now able to capture and share their driving experiences using the ReRun app developed in collaboration with GoPro. ReRun enables real-time video from the GoPro camera to be overlaid with key performance data from the F-TYPE:
-Speed
-Throttle position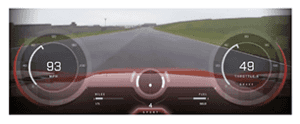 -Gear Selection
-Braking force
-G-force
-Steering wheel angle
With the smartphone connected wireless to the GoPro and to F-TYPE's new Touch Pro infotainment system, drivers are ready to start recording premium quality videos that can be downloaded to the driver's smartphone and shared on social media.